Neuromed BLT Variety Pack Numbing Cream Appplication Instructions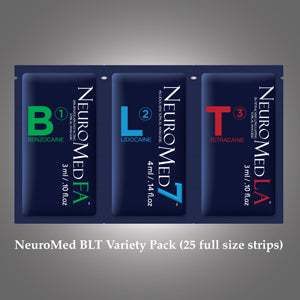 How to use the NeuroMed BLT Variety Pack®
Proper application of the Neuromed BLT Variety Pack is extremely important for best effect:
Clean treatment area with mild cleanser and damp, clean cloth to remove any dirt, make-up or other material that may impede absorption.
If using during facial service, disinfect the skin with alcohol or similar
Dosage will depend on the skin type, aggressiveness of procedure, known pain tolerance and surface area.
Use the least amount of product necessary to achieve the required amount of local anesthesia
Avoid use on open wounds, broken skin, eyes, ears, in the nostrils and mouth
Apply a hot compress for 5 minutes to enhance penetration
If using for microneedling or microchanneling, here is a quick video on how to perforate the epidermis lightly with the needling device turned off before applying the numbing cream
Mix the contents of all 3 packets in an apothecary bowl, or in a gloved hand.
For best effect the recommended dose is 1.5ml/grams per 1"X1" square area)
With a gloved hand, evenly distribute the cream and rub vigorously in circular motions for 1-5 minutes for each area
Apply more aggressively to known pain-sensitive "hot spot" areas on the face (forehead, lips, cheek bones), and body, (bony prominences)
The peak action begins in approximately 15 – 20 minutes
Some clinicians use an occlusive dressing for an improved efficacy – occlusion should be determined by a licensed physician.
Do not exceed 10 ml/grams per application
Physician should take into account total anesthetic dose when using this product in combination with other anesthetic products. – Sambria Phamaceuticals
For more information contact: solutions@mountaincoastdistributors.com, (800) 551-5582.
Mountain Coast is your source for the most advanced aesthetic technologies & training:
THERALAST
– Long Lasting Topical Pain Relief Gel
Illuminate
LED
– The Portable, Affordable LED Light Therapy Solution
ezPRF
 – Platelet Rich Fibrin works better than PRP
ProCell Therapies
 – Dermabrasion, Microchanneling, Stem Cell Therapy & Hair Regrowth
TOTAL FACIAL RF
 – Up to six proven modalities deliver a TOTAL skin rejuvenation experience
DiamondTome DT2
 – Altair Instruments' Dual Microderm/Cosmeceutical Infusion Platform
SmoothCool – Intense Pulsed Light & Skin Cooling Platform
EPILFREE – Permanent Hair Reduction for all hair colors without a LASER!
CÉLAGE – At-Home Skin & Serum Enhancement Kit
NovaThreads – PDO Therapy -Injectable Directional Soft Tissue Molding
Affordable Hyperbaric Solutions – Hyperbaric Chamber Rental
Intracel – RF Microneedling for Acne Scars and Neck Tightening
NeuViva – CO2 LASER Feminine Rejuvenation
ProFx – 3 Stage Aqua Facial (analog controls versus Hydrafacial®)
Edge One – Fractional CO2 Laser Resurfacing & Feminine Rejuvenation
NewApeel – Crystal Free Microdermabrasion system
NewSurg – 532 Diode for vascular and pigment
NeuroMed BLT – OTC Topical Numbing Creams
ClariFusion – Ultrasonic Cosmeceutical Infusion System
IntraGen – Grid RF for Vaginal & Skin Rejuvenation
We are the THERALAST Reps in San Diego, Colorado, and beyond
We are the Microdermabrasion Reps in California, Colorado and beyond
We are the EPILFREE Reps in California, Colorado and beyond.
We are the Illuminate LED Reps in California, Colorado and beyond.
We are the NewApeel Reps in California, Colorado and beyond.
We are the IPL Reps in Colorado and beyond.
We are the LASER Reps in California, Colorado and beyond.
We are the Procell Therapies and RF microneedling Reps in California, Colorado and beyond.
We are the Radio Frequency Reps in California, Colorado and beyond.
We are the TOTAL FACIAL RF Reps in California, Colorado and beyond.
We are the PDO Threadlift Reps in Colorado and beyond.