Epilfree is Permanent Hair Reduction for all colors of hair. It works in the Spa (no doctor required!) by introducing two 100% natural, safe and effective topicals that prevent the follicle from supporting normal hair growth. Over a typical 6-12 session treatment series, about once per month, (just like with LASER) hair regrowth is reduced or eliminated.
Now you can give your clients LASER results for hair removal at the Spa – without the LASER! Choose from any or all of the four available Epilfree Treatment Kits:
For Professional Use at the Spa: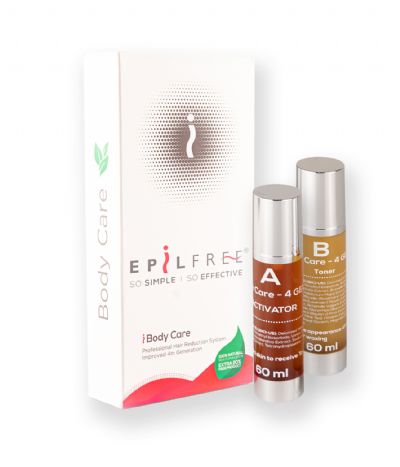 The Body Care Kit Includes:

60ml Post Epilation Activator Lotion – A
60ml Post Epilation Toner Serum – B
You can treat 40 – 50 large body areas, (legs, arms,back, chest etc.)
BUY NOW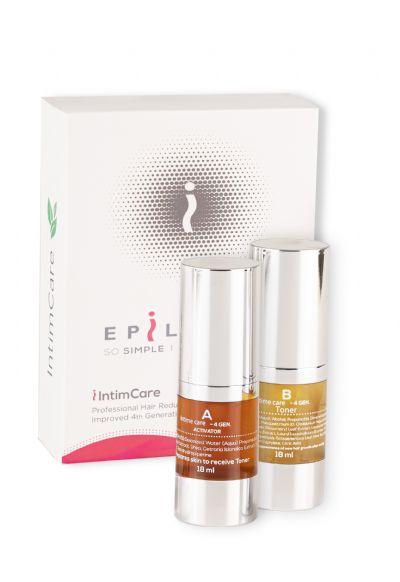 The Intimate Care Kit Includes:
18ml Post Epilation Activator Lotion – A
18ml Post Epilation Toner Serum – B
You can treat 40 intimate areas(bikini, armpit etc.)
BUY NOW
For Retail, At-Home Epilfree Hair Removal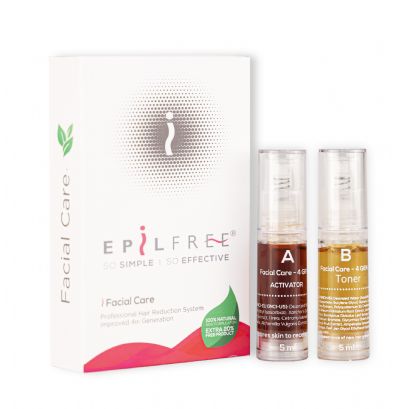 The Facial Care Kit Includes:
5ml Post Epilation Activator Lotion – A
5ml Post Epilation Toner Serum – B
Epilfree Home – Facial
(for Retail/At Home Maintenance)
Includes:
6.5ml Proprietary admixture of Lotion & Toner
BUY NOW
The Epilfree treatment consists of 3 simple steps:
Wax (using an Epilfree approved wax)
Apply Activator – A
Apply Toner – B
We have taught thousands of licensed professionals just like you to produce LASER hair removal results with Epilfree, (and without a LASER or a doctor).
We provide online training & certification recognized throughout the aesthetic and insurance industries .
Step by Step Instruction Details
Prior to Treatment Clients should arrive with clean skin. Anything on the skin may block the follicles and reduce results. Recommend a nice warm shower and thorough rinse remove any residue from the skin.
IMPORTANT: When applying Epilfree wear non-powdered gloves to prevent Toner absorbing into your skin, and to avoid creating heat via friction that can negatively effect the Toner in Step 3.
Step 1 – Wax
Use clippers if necessary to trim the hair to between 2.5 mm and 5 mm for best waxing results.
Ensure that you remove the hair & root.  Check the waxing strips under a magnifying glass to verify the hair roots are being removed. Do not apply any lotion, cream, oil or other post-wax treatment, as this may clog the follicles and reduce results.
For best results, use an Epilfree approved hard or soft wax (
Contact Us
to get advice on the best waxes for Epilfree).
Step 2

Apply and Spread Activator A.
Immediately apply the
Activator A
(which contains antiseptic ingredients that disinfect the treatment area and
open the follicles
up to four-times their normal size.
Applying Activator A:
Spray (or drop if using the Facial Care Kit) the Activator A on the area and spread it lightly with a gloved hand until the area is covered. Set a timer for 3 minutes and then move to Step 3.
Step 3

Apply and Massage Toner B.
Drip Toner B onto the treatment area until you have enough to spread over the entire area.  Spread Toner B lightly over the entire treatment area.  Massage Toner B into the skin in the
direction opposite hair growth.
Massage with
firm pressure
, using your gloved fingers, until all is absorbed.  On large areas (chest, back) use the palm of your hands and firm pressure to ensure Toner B enters the follicles.
Epilfree Post Treatment:
Instruct your client to not wash the treated area, nor to swim, workout or perspire for at least 6 hours.
Apply no post-waxing products, creams, lotions, makeup, deodorants, perfumes, etc. for at least 6 hours. (Failure to follow instructions may significantly reduce results.)
Safe to Use:
Epilfree is a cosmeceutical product certified by the health authorities of the European Union CPNP and registered with Health Canada and the FDA in the United States.
Epilfree will not effect tattoos and has been tested and approved by Cosmepar laboratory in France. Laboratory testing shows Epilfree to be non irritating and  without any known side effects.
About Epilfree:
Dr Yoel Konis PhD, founder of EpilFree is an expert in the field of chemistry and cosmetic science for over 35 years.
Dr Konis was testing natural ingredients for the treatment of healing skin diseases. While experimenting with a variety of formulations he found that for one in particular, hair was not growing back in the treated areas. And so EpilFree was born!
"Epil" meaning the removal of hair by waxing, sugaring, threading or tweezing.
"Free" meaning free of unwanted hair.
EpilFree is a post epilation treatment that is a part of a comprehensive hair removal regimen to inhibit and eliminate the regrowth of hair. It achieves up to 90% hair reduction results, and can perform better than LASER for many of your clients.
Compared to LASER hair removal Epilfree is revolutionary; No LASER. No doctor required, and it works in conjunction with a regular wax routine.
Epilfree is applied after a wax to the treated area. It combines simplicity of use with exceptional results that are equal to, or better than LASER, but without the limitations, excessive costs, side effects and complications LASER can bring.
Got questions? Contact Us!
Mountain Coast Distributors is your source for advanced Medical & Aesthetic Technologies and Training
Call: (Eight Hundred) 551-5582
NeuroMed –
BLT OTC Topical
Numbing
Creams
Blossom
– At
Home
Skin & Serum Enhancement Wand

Petite Giant – Microderm
, LED, Oxygen Infusion Machine

NovaThreads – PDO Threads
for Lifting, Volume & Filler Augmentation
NeuViva
CO2 –
LASER
Feminine Rejuvenation
ProCell Therapies
– Dermabrasion,
Microchanneling
, Stem Cell Therapy & Hair Regrowth
Illuminate LED – 
The Portable, Affordable
RED Light Therapy
Solution

ProFx
– 3 Stage
Aqua Facial
(analog controls versus Hydrafacial
®
)
ezPRF
– Platelet Rich Fibrin is more effective than
PRP
for Aesthetics
TOTAL FACIAL RF
– Up to six proven modalities deliver a
TOTAL skin
rejuvenation experience
Edge One –
Fractional
CO2 Laser
Resurfacing & Feminine Rejuvenation
NewSurg
– 532 Diode
LASER for vascular
and pigment
ClariFusion
– Ultrasonic
Cosmeceutical Infusion
System
IntraGen
– Grid RF for
Feminine & Skin
Rejuvenation
We are the IPL Reps in Colorado and beyond.
We are the LASER Reps in California, Colorado and beyond.
We are the Microdermabrasion Reps in California, Colorado and beyond
We are the EPILFREE Reps in California, Colorado and beyond.
We are the Illuminate LED Reps in California, Colorado and beyond.
We are the NewApeel Reps in California, Colorado and beyond.
We are the Procell Therapies and RF microneedling Reps in California, Colorado and beyond.
We are the Radio Frequency Reps in California, Colorado and beyond.
We are the TOTAL FACIAL RF Reps in California, Colorado and beyond.
We are the PDO Threadlift Reps in Colorado and beyond.