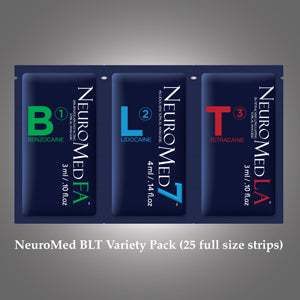 Tips for Applying the Neuromed BLT Variety Pack
A skin numbing cream can be an effective way to make both medical and cosmetic procedures easier.  Aesthetic & medical practitioners have learned that numbing cream is helpful in many situations. Practitioners like dermatologists and aestheticians use numbing creams to make cosmetic treatments safer and less painful.
Numbing cream is commonly applied before a variety of procedures including:
Removal of various skin lesions
Dermabrasion
Laser resurfacing (CO2, Fraxel)
LASER or IPL treatment of vascular and pigmented lesions
RF and ultrasound treatments (RF Microneedling Ultherapy)
Tattoo removal (ex. Q-switched laser tattoo removal)
Waxing, laser hair removal (ex. YAG laser hair removal)
Injectables (Botox, Fillers, PDO Threads)
Chemical peels
How Strong is the BLT Variety Pack?
The Neuromed OTC percentages are the highest allowed under federal guidelines: Benzocaine 20%, Lidocaine 4%, Tetracaine 2%. Sometimes referred to as "BLT" cream, these three topical numbing agents are the most popular and effective ingredients for numbing during procedures, and for the relief of pain at home They reduce pain from aesthetic procedures and minor surgery, tatoos, and permanent makeup. Together the Variety Pack is more effective than any topical that includes just one ingredient. The Neuromed BLT Variety Pack delivers rapid onset and a stronger, longer numbing duration than other single ingredient topicals.
How to apply BLT numbing cream
Try the numbing cream application technique in THIS VIDEO!
Pain Control Methods
We've heard that some of our practitioners recommend up to 800 milligrams of Advil or Tylenol (or similar NSAID) about 1 hour before they come in.
We've been told that some of our practitioners recommend this little vibrator and have the client hold it against their breast bone (between the breasts) during the treatment.
Some of our practitioners have mentioned that they have clients put 1/3 of a dropper of CBD Tincture under their tongue about 10 minutes before they start applying numbing cream . Many of them use JLounge Organic CBD tincture from Boulder Colorado. You can get it from JLounge, (just call or email them) 720-484-6669 or email jzrubek@jloungespa.com).
We've heard that some of our practitioners ask their clients to breath deeply and rhythmically and concentrate on how it feels to fill their lungs and empty their lungs of air.
We've heard that some of our practitioners give their client little squeeze balls like these to squeeze when they feel uncomfortable.
Many practitioners have told us that they have the client puff up their cheeks, stretch their lips, or otherwise stretch their facial skin during facial treatments like injectables, LASER, IPL, microderm and mocroneedling to facilitate better coverage, and to distract from any discomfort.
And finally… "Talkesthesia"… just keep talking! Having a conversation while the treatment is in progress can also help distract from any discomfort your cosmetic client may be feeling.
Please browse the site and feel free to inquire about any of the services and technologies for which we offer devices, products & technologies and the most comprehensive training and certification available.
Mountain Coast is your source for the most advanced aesthetic technologies & training:
NovaThreads PDO Threads
for Lifting, Volume & Filler Augmentation
ProFx
3 Stage
Aqua Facial
(analog controls versus Hydrafacial
®
)

Illuminate LED
The Portable, Affordable LED Light Therapy Solution
ProCell Therapies
Dermabrasion,
Microchanneling
, Stem Cell Therapy & Hair Regrowth
DiamondTome DT2
Altair Instrument™ Dual
Microderm
/Cosmeceutical Infusion Platform
ezPRF Platelet Rich Fibrin is more effective than PRP for Aesthetics
SmoothCool IPL Intense Pulsed Light & Skin Cooling Platform
TOTAL FACIAL RF Up to six proven modalities deliver a TOTAL skin rejuvenation experience
EPILFREE Permanent Hair Reduction for all hair colors without a LASER!
CÉLAGE At-Home Skin & Serum Enhancement Kit
Affordable Hyperbaric Solutions Hyperbaric Chamber Rental
Intracel RF Microneedling for Acne Scars and Neck Tightening
NeuViva CO2 LASER Feminine Rejuvenation
Edge OneFractional CO2 Laser Resurfacing & Feminine Rejuvenation
NewApeel Crystal Free Microdermabrasion system
NewSurg 532 Diode LASER for vascular and pigment
NeuroMed BLT OTC Topical Numbing Creams
ClariFusion Ultrasonic Cosmeceutical Infusion System
IntraGen Grid RF for Vaginal & Skin Rejuvenation
We are the IPL Reps in Colorado and beyond.
We are the LASER Reps in California, Colorado and beyond.
We are the Microdermabrasion Reps in California, Colorado and beyond
We are the EPILFREE Reps in California, Colorado and beyond.
We are the Illuminate LED Reps in California, Colorado and beyond.
We are the NewApeel Reps in California, Colorado and beyond.
We are the Procell Therapies and RF microneedling Reps in California, Colorado and beyond.
We are the Radio Frequency Reps in California, Colorado and beyond.
We are the TOTAL FACIAL RF Reps in California, Colorado and beyond.
We are the PDO Threadlift Reps in Colorado and beyond.
https://mountaincoastdistributors.com/wp-content/uploads/2018/01/NeuroMed-BLT-Combo-Packets-10ml-300x300.jpg
300
300
Doug McBurney
https://mountaincoastdistributors.com/wp-content/uploads/2022/02/logo-9.png
Doug McBurney
2020-12-29 16:49:43
2020-12-29 16:49:43
Tips for Applying the Neuromed BLT Variety Pack