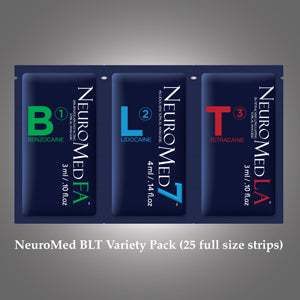 Moisturization & Rejuvenation… in a Numbing Cream?
If you have to use a numbing cream to help your clients deal with discomfort, why not stimulate and moisturize at the same time?
With Neuromed BLT Variety Pack you get excellent pain relief and a host of beneficial skin care ingredients including:
Arnica Montana Flower Extract, Emu Oil, Melaleuca Alternifolia (Tea Tree) Oil,  & Triethanolamine for balanced Ph.
Contact Us or call (800) 551-5582 to learn more about the Neuromed family of skin conditioning numbing creams!
Mountain Coast Distributors is your source for advanced Aesthetic Technologies:
TOTAL FACIAL RF – Up to six proven modalities deliver a TOTAL skin rejuvenation experience
ProCell Therapies  – Dermabrasion, Microchanneling, Stem Cell Therapy & Hair Regrowth
NovaThreads – PDO Therapy -Injectable Directional Soft Tissue Molding
POLY – Multi-Wavelength LED Therapy for Skin, Acne & Pain
SmoothCool – Intense Pulsed Light & Skin Cooling Platform
DiamondTome DT2 – Altair Instruments' Dual Microderm/Cosmeceutical Infusion Platform
Intracel – RF Microneedling for Acne Scars and Neck Tightening
NeuViva – CO2 LASER Feminine Rejuvenation
ProFx – 3 Stage Aqua Facial (analog controls versus Hydrafacial®)
Edge One – Fractional CO2 Laser Resurfacing & Feminine Rejuvenation
Hormone Therapy Centers of America – Pellet Therapy
NewApeel – Crystal Free Microdermabrasion system
NewSurg – 532 Diode for vascular and pigment
Exponential Faces – Sell all the top skin care lines without stocking!
NeuroMed BLT – OTC Topical Numbing Creams
ClariFusion – Ultrasonic Cosmeceutical Infusion System
IntraGen – Grid RF for Vaginal & Skin Rejuvenation
Epilab SmoothPulse – German Diode LASER Hair Removal
MELASER – Dyes Blonde, White & Light Hair for LASER/IPL Hair Removal
https://mountaincoastdistributors.com/wp-content/uploads/2018/01/NeuroMed-BLT-Combo-Packets-10ml-300x300.jpg
300
300
Doug McBurney
https://mountaincoastdistributors.com/wp-content/uploads/2022/02/logo-9.png
Doug McBurney
2018-02-14 08:04:20
2020-12-02 14:53:49
Moisturization & Rejuvenation… in a Numbing Cream?